Campervans for Sale
Campervans
For Sale
Currently no campervans for sale. Please check back later or contact us.
Go Camper
19 Mandurah Road, Kwinana Beach Western Australia
19 Mandurah Road Kwinana Beach Western Australia
Open Monday to Friday 9am – 4pm
Open Saturdays 9am – 12pm
Closed Sundays
Go Camper

Hire Extras
When you hire a campervan with Go Camper, the Inventory gives you everything you need to get the most out of your WA adventure.  We also have a list of Extras available for hire including tents, snorkles & masks, bodyboards, camping chairs and tables, GPS, baby booster seats and much more.
Go Camper

Everything you need for a camper holiday!
We pride ourselves on making sure your journey is as relaxed and enjoyable as possible. To make things run smoothly, we've tried to think of everything that you may need and included them in your Go Camper.
* The number of articles depend on the type of vehicle.
Dinner Set
*Number of cutlery and crockery depends on Berth of vehicle (6 Berth = 6 of everything)

Plates, Bowls, Cups, Drinking Glasses & Cutlery Set

2x Wine Glasses*
Equipped Kitchen
1 x Kettle

1 x Coffee Plunger *

1 x Electric Toaster *

3 x Kitchen Knives

4 x Cooking Utensils

1 x Pair of Tongs

1 x Bottle Opener

1 x Can Opener

1 x Vegetable Peeler

1 x Chopping Board

1 x Microwave Steamer *

3 x Microwave Mixing Bowls *

1 x Salad Bowl*

Plastic Containers

2 x Saucepans

1 x Frying Pan

1 x Dish Cloth

2 x Tea Towels

Coat Hangers *
Utility Inclusions
Sleeping Bags & Pillows (available upon request)

1 x Bucket

1 x Dust Pan & Brush

1 x 15A Charging Cable

1 x Fresh Water Hose

1 x Clothes Line with Pegs
Safety Equipment
First Aid Kit (Available to Purchase)

* Not included in all vehicles (please feel free to ask if this is included in your vehicle)
Go Camper
Features
These details are indicative of the vehicle that will be supplied under your booking. Actual vehicles may vary according to year of manufacture and availability but your vehicle will be suitable for the required number of persons and have equivalent or better specifications to those listed here.
Go Camper
Disclaimer
Although this site checks regularly with it's data sources to confirm the accuracy and completeness of the data, it makes no guarantee or warranty, either express or implied, including without limitation any warranty or merchantability or fitness for particular purpose, with respect to the data presented in this report.  User assumes all risks in using any data in this report for his or her own applications.  All data in this report are subject to change without notice.
The campervan conversion was made in Western Australia, while the vehicle itself was manufactured internationally.
Dealer License MD24690
10% off Top Caravan Parks!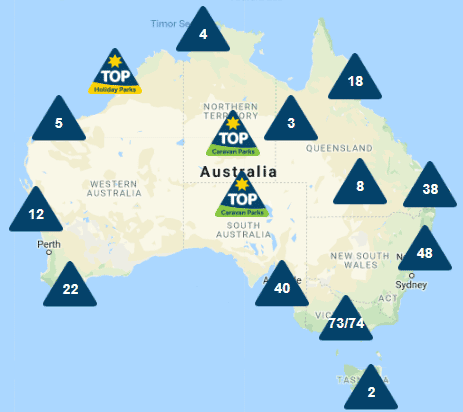 Go Camper and Top Tourist Parks
Hire your campervan from Go Camper and get 10% off Top Tourist Parks in Australia, and unlimited Km's with no mileage fees. Find your perfect campervan for your driving holiday!